A growing number of enterprises and organizations around the world are adopting DocuSign's e-Signature solutions to accelerate and optimize their agreement and approval processes, realize faster transactions and reduce costs. Many of these organizations in industries such as life sciences, energy, engineering, and public sector worldwide deal with complex, heavily regulated and audited approval and quality management processes. Much like other business processes, paperbased "wet" signatures slow these processes down and prevent efficiency. These organizations face the additional challenge of meeting strict policies and regulatory compliance requirements that are best met by an on-premises system with signer ID verification and authentication integrated with their corporate ID systems and digital certificate-based, PKI (Public Key Infrastructure) technology.
For these enterprises and organizations, DocuSign offers the DocuSign Signature Appliance, formerly CoSign Central — an on-premises electronic signing solution that delivers signer control and management, combined with a trusted solution with a decade-long track record of success in these markets. The DocuSign Signature Appliance integrates with the document authoring applications you already use and the most popular onpremises systems for identity management, document management and workflow for your approval and documentation needs.
The Signature Appliance is the most trusted, on-premises, embedded electronic signature solution to power approval and agreement processes behind your firewall. Built using industry-standard digital signature technology (PKI), the Signature Appliance has key security certifications including FIPS 140-2 level 3 and Common Criteria EAL4+, Pre-built connectors for the leading ID management, document authoring, document management and workflow applications enable you to add electronic signing while preserving your existing business processes.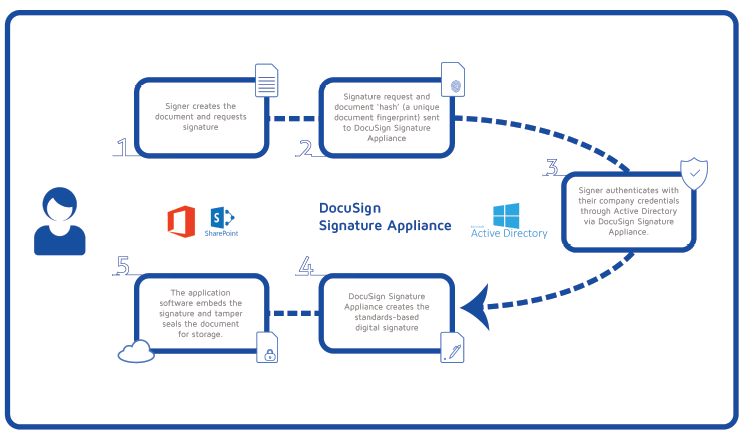 Work with the Applications & Systems You Already Use
• Works with your existing applications, enhancing your organization's productivity. The solution adds PKI-standard digital signature-based signing to your document authoring applications including Microsoft Office, AutoCAD, Bentley Microstation and Projectwise, as well as, leading PDF editors including AdobeAcrobat, Nitro Pro and BlueBeam Revu. Employees can authenticate with the Signature Appliance and the time of signing and sign directly from these applications providing an easy and secure experience.
• Enables you to sign any digital file, while preserving the native file format after the signing process, including media files and non-document formats.
• Integrates into your existing systems infrastructure and business process, including the most popular document management and workflow systems, to preserve your existing processes and policies, ensuring continuity and efficiency. The Signature Appliance integrates directly with SharePoint, OpenText, Oracle, Documentum, Nintex, K2 and more.
• Deploys quickly and easily to signers in your organization using pre-built connectors for your applications and document management systems.
Trusted and Compliant Electronic Signatures
• The DocuSign Signature Appliance delivers trusted and easily verifiable signatures. Signers are authenticated at the time of signing using your integrated corporate ID management system. The resulting e-signatures can be linked to the signer's corporate identity for maximum compliance and enforceability.
• The DocuSign Signature Appliance has the strongest track record of successful customer e-signature implementations for reliable, compliant regulated transactions in Life Sciences, Government, and Architecture, Engineering and Construction, worldwide.
• Built using industry-standard PKI technology, the Signature Appliance can also be configured to use digital certificates backed by your preferred Certificate Authority, including qualified electronic certificate providers in the European Union. No smart cards, no USB readers, no digital certificate management headaches with the Signature Appliance.
• The DocuSign Signature Appliance complies with industry and governmental regulations including ESIGN, the eIDAS e-signature regulation in the European Union, FDA 21 CFR Part 11 and many more.
Click here to download product's brief